Big Steps: Get On Google Business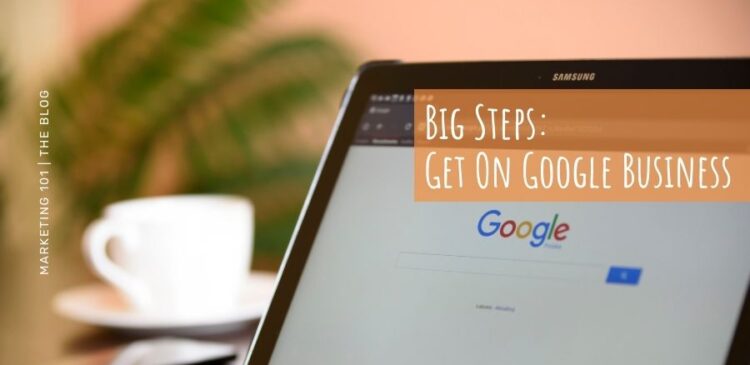 Google Business (formerly known as Google My Business) lets businesses of any size showcase their profile on Google and make it more likely that you appear in search results (oh, and it's completely free too).
But what is Google Business?
Google Business allows you to list your business and location on Google Maps as well as local search results. You have the option to list important information such as opening hours, contact details and even a direct link to your website.
Why is Google Business  important?
Because you need to take the big step to get your business seen. Setting up Google Business should be seen as one of the important things on your checklist when it comes to your SEO (which you can read more about here). It's especially important if your business is online (think of it as your virtual shop window).
How can I make the most out of my profile?
It's all well and good setting up a profile, but you need to ensure you're making the most of it. Make sure you're adding things such as images, up-to-date contact information and even 'posts' to your profile so it's current and easy for users to view your business. You can also add a call to action button to your posts on your Google Business profile. 
Adding images on a regular basis also shows Google you're active, and will work in your favour when potential customers are Googling your business. 
Maybe set a monthly (or even fortnightly) reminder to go and check out the profile to see what you can add to it.
What about reviews?
Google reviews are an amazing way of showcasing your business and how fantastic it is. Collecting reviews will also help you rank higher in searches and on map results – they are a realistic viewpoint from other customers and can impact how users interact with your site (we also suggest interacting with the reviews so customers can see you care about their experience as well as building trust).
All you need to do is go to your reviews page, copy the sharing link and then get it out to your clients, either personally, each time you finish a job for them, or part of your automated emails (like when you send them their invoice, receipt, or confirmation email). 
How do I create a profile?
Setting up a profile is super quick! Head to www.google.com/business and click 'manage now'. Then follow the steps to setting up your business on Google. 
Getting seen online can be a challenge, but by taking steps like this you are on the right track to being discovered!
Marketing 101 are experts when it comes to all things SEO and visibility, so get in touch to see how we can take the stress out of your marketing!