Most popular social media platforms by age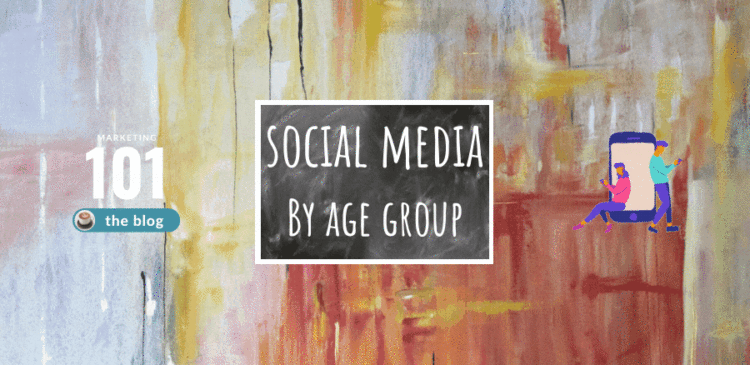 Social media is now more popular than ever, currently almost half of the world wide population (3.2 billion people) are using some sort of social media. 
We thought it would be a good idea to investigate this statistic further and give you a breakdown showing what age group are using what social media so you can be more accurate when trying to reach your target audience through the use of social media. The TikTok stats in particular may surprise you.
Age groups
13-17 (born 2008 – 2004)
YouTube is the most popular social media with this generation, 85% of people from this age group claim that they use YouTube.
The next most popular social media for this age group is Instagram, with a usage rate of 72%, 69% use SnapChat, 51% are on Facebook, 32% use Twitter and 7% are on Reddit.
What we can see based on this information is that Facebook, which was once the most popular social media for teenagers to use, is now losing traction to its newer competitors. At one point it 2015 SnapChat even had more users than Facebook did!
18-29 (born 2003 – 1992)
95% of people aged 18-29 are using YouTube. This is not a surprise as YouTube has been reported as the 2nd most popular website only getting beaten by its owner; Google.
This is the most active age group when it comes to social media usage. Other than LinkedIn, people aged 18-29 are the biggest users of every other social media. 86% use Facebook, 67% of them use Instagram, 34% of them use Pinterest, 38% of them use Twitter, 25% use LinkedIn 62% use SnapChat, when it comes to Reddit; 45% use it and 27% use TikTok.
With this age group, growing up with Facebook meant that other than YouTube, it is their most used social media site. However, as time goes on even with this age group, Facebook is slowly losing popularity to other social media sites. 
30-49 (born 1991 – 1972)
Once again the most popular social media; YouTube is at the top of this generation's usage list. A staggering 91% of the people belonging to this generation are on YouTube.
Facebook is again second with 77% and Instagram usage is at 47% for this age group. 35% use Pinterest, 26% use Twitter, 14% of this age group are on Reddit, 27% are on LinkedIn, 20% use SnapChat and 30.3% are on TikTok. 
When it comes to people born between 1991 and 1972, other than YouTube, Facebook remains as the most used social media site. We also notice a significant drop in usage of social media that aren't YouTube and Facebook. 
50-64 (born 1971 –  1957)
Even amongst the older generations, the use of YouTube is insane. 83% of people born between 1971 and 1957 are YouTube users. It's no wonder that YouTube is the 2nd most popular website.
The only other social media with a usage rate of over 50% for this generation is unsurprisingly Facebook being at 51%, 23% are on Instagram, 27% use Pinterest, 17% are Twitter users, 6% are Reddit users, 14% are TikTok users and 9% are on SnapChat.
This age group takes the drop of newer media usage even further, barely using anything that isn't YouTube or Facebook. 
65+ ( born 1956 or earlier)
The 65+ generation are generally the least prolific social media users. The one social media they do use however, is to no one's surprise, the most popular social media; YouTube. 49% of people of this generation are on YouTube.
Facebook is the next most popular social media of this age group, being used by 34% of people, other than YouTube and Facebook, social media usage among this age group is very low, only 8% use Instagram, 15% use Pinterest, 7% use Twitter, 1% use Reddit, 4% are on TikTok and 3% are on SnapChat.
People of this age group use almost nothing other than YouTube and Facebook. No social media out of the newer ones other than Pinterest have a usage rate that goes into the double digits. 
CONCLUSION
YouTube is by far the most popular social media out there. The video streaming website is the most popular social media with every single age group. The next closest one being Facebook which is however slowly but surely losing users to its newer counterparts among the younger generations. For the older generations Facebook usage has pretty much remained constant as they are not interested in the new socials.
If you would like to learn more about social media usage and how to utilize it in your marketing campaign; click here to get in touch. 
References
https://khoros.com/resources/social-media-demographics-guide 
https://www.smartinsights.com/social-media-marketing/social-media-strategy/snapchat-statistics/ 
https://www.oberlo.co.uk/blog/reddit-statistics#:~:text=Statistics%20show%20that%2014%20percent,among%20US%20adults%20above%2065. 
https://sproutsocial.com/insights/new-social-media-demographics/ 
https://influencermarketinghub.com/tiktok-stats/ 
https://www.pewresearch.org/internet/2021/04/07/social-media-use-in-2021/#:~:text=Additionally%2C%20a%20vast%20majority%20of,among%20those%2065%20and%20older.