Marketing Mythbusters: Marketing ISN'T all about selling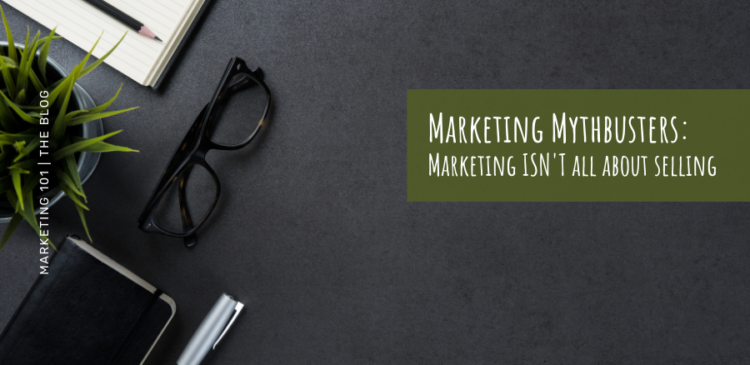 Welcome back to the Marketing 101 blog, and more excitingly, the new Marketing Mythbusters series.
The nature of marketing brings many different opinions and misinformation. And unless you have the background knowledge, you won't know any different. This is why we're here – to help you understand everything there is to know about marketing so that you can make informed decisions concerning your marketing strategy.
Of course, your marketing strategy is crucial for your sales. The whole point of having a marketing plan in place is to sell your products and services, right?
To some extent, this has some truth as all of the different pillars of your marketing strategy ultimately lead to more sales. However, approaching your marketing strategy with a "sales" head-on will only lead to failure, and here's why.
Who's your audience?
The first thing you need to be clear on when it comes to your strategy is your audience. Who is your ideal audience? If you had to build a customer profile, what would it be? Before you even think about selling your products or services, you need to know who you're selling them to. Trying to blanket-market your products or services to as many people as possible will lead to your engagement rates dropping, as well as your spirits.
Focus on building that customer profile, and start tailoring your market strategy to them. What kind of people would buy into your products/services? Who is your competition (and check out their social platforms for some inspiration)? 
Engagement.
Once you've built a customer profile and started growing your audience, you need to be on the ball when it comes to engaging with them.
Someone's left a comment on your post? Reply to it! Start utilising the features social platforms have for a reason, such as polls and questions on stories (Facebook, Instagram). Get to know your audience better so you know the types of things they want to hear more about. It will also make your brand appear as approachable, and human, as opposed to an automated robot behind a screen.
Tailor Your Content
Tailoring your content to the wants and needs of your audience helps secure those sales. 
Start sharing the stuff that your audience wants, such as behind the scenes of the business, Q&As about your products/services and even competitions and giveaways. 
Learn from your historical posts. You will find that some posts perform better than others, so take note and start making more of that content. Platforms such as Instagram and TikTok favour video content, whereas LinkedIn prefers carousel posts as PDFs. It's about experimenting and learning from your engagement rates.
But everything you've just said is about selling?
To some degree, it is. This is why we said at the beginning that your marketing strategy is important for your sales. However, having a strategy is so much more than selling. 
Having a genuine and authentic relationship with your audience is a key factor in having a strong brand. The more your audience feels connected with you, the more likely they are to recommend you to friends and family (word of mouth is still strong today) or reshare your social posts to their own profiles.
Who can I look at for a good example of relationship building?
Aldi's Marketing department is always busy creating relatable, current and funny posts which not only make people laugh but sell their products (and well). Albeit, their methods may sometimes seem unconventional, but that's why it works! Take their recent social media campaign for example, making digs at popular food chains with creative billboards outside restaurants and takeaways. 
Another good example of how a business has used their branding to connect with their audience is Hair Syrup. They use an assortment of aesthetic images, memes and customer content to connect with their audience on Instagram and TikTok, and it's working! 
Both of these brands are completely different, but have found a way to make their marketing strategies work. 
So, instead of focusing on selling when you approach your marketing strategy, start to focus on your audience and your branding and let it take you from there.
We have created a 30-day content planner to help small businesses boost their social media. It's completely FREE to download, just click here now for your complimentary copy.