Instagram theme ideas to stand out from the crowd
So you've made your Instagram account. Now what? It's time to start posting. But if you want to be a bit more creative than just uploading photos with a caption, one by one, then why not try carefully planning the aesthetic of your page. Spice your page up by simply choosing a Instagram theme that you want your grid (the name for your feed of photos)  to follow and stick to it to make your page stand out from the rest.
Themes based on content
One way to theme your instagram page is to do so around the content you create. There are many different types of content to choose from so pick one that best suits you and one that you have the skillset for. Here are some examples.
Fitness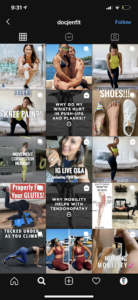 Fitness content is one of the hottest and most popular types of content you can make at the moment. You can focus on physical fitness and everything that goes into it such as dieting or working out, or you can post another type of fitness; mental health and help out millions of people struggling both physically or mentally.  
Food
Eating is something we all do. So whether you're a food blogger, restaurant owner, critic or you just feel like sharing an amazing creation you cooked up you can do in style and while appealing to everyone.
Travel
We all love to travel, but not everyone is able to. So finding travel pages on Instagram can be a great substitute. Whether looking at the pages to create visions of a holiday in your head or looking at them to scout great locations for your next adventure, there's something for everyone.
Make-up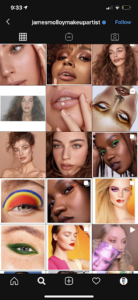 If you feel like you're great at doing make-up and want to share your beautiful looks with the rest of the world, why not make a make-up themed Instagram page sharing your tips and tricks.
Pet 
Everyone loves pictures of our little furry friends, so why not make a page based on them to brighten everyones day.  
Themes based on aesthetic
If you don't have a specific type of content in mind, or would just like to design your own personal page where you post anything, have no fear! You can do so in so many different ways and make your page stand out from the rest. Here are a few ways how.
Checker board
You can alternate your posts in a pattern where you post a picture and then a quote with a simple background to create this amazing eye-catching checkerboard.
Puzzle
Aesthetically speaking, this is definitely one of the best themes when done right. To achieve this look you need to strategically split your image into a bunch of smaller ones and post it in the correct order to make the image split amongst multiple posts.
Same filter
Sometimes you don't need to be too crazy with filters but dial it back a bit instead. For this theme, simply use the same filter for every post to create this very eye pleasing theme which connects all your pictures.
Horizontal line
With this one, everytime you make three posts. Make sure the next three all go together in order to create a horizontal line between sets of posts.
Vertical line
Last but certainly not least, one of the most popular Instagram themes. The vertical line. In order to achieve this look for your page, simply plan out your posts to where the row is a straight line of a single color and it creates this divider between the two sides.
There are many ways in which to design your Instagram page and make it more eye-catching than the rest. If you are still struggling to find your perfect design or would like for someone to manage your Instagram page to make it the best it can be, get in touch with Marketing 101 now.