Big Steps: Reactive Marketing – What is it and why you should be doing it
Welcome back to the Marketing-101 blog, and more importantly, our Big Steps series! You may have never heard of the phrase 'reactive marketing' before, however it's a key element of a lot of the advertising we see nowadays, especially online.
Reactive Marketing is advertising campaigns or social media campaigns that are sudden or unexpected, usually as a response to current news or trends. Usually, normal content gets paused to allow time to post your reactive marketing. It is the opposite of what we call proactive marketing (which is campaigns planned around events or main holidays).
Why do I need to know what reactive marketing is?
You should know what it is due to the fact it's one of the most popular ways brands are connecting with their audiences at the moment.
By posting about things which are current and trending, your posts/advertising are more likely to pick up more interest and engagement, and in turn, generate more interactions for your brand. Usually, content that is related to something that is trending gets prioritised on social platforms, meaning it's more likely to be shown to more people.
But what platforms do I use for reactive marketing?
By its very nature, reactive marketing content is to be posted quickly and as soon as you catch wind of a 'trend', which is why social media is the best place to implement it. Sometimes, these trends can come and go quicker than you can say "let's do this", so you have to be quick on the mark. Utilising social media features such as 'stories' is a good way to put this marketing method into play. 
Please, give me an example of reactive marketing…
Snickers: When the infamous Jeremy Clarkson found himself in a spot of trouble with the BBC after having a bit of a punch up, Snickers responded aptly with the following tweet; playing on their "You're not you when you're hungry" tagline:
Source – SixTwo Digital
Another form of reactive marketing is something called "Brand Banter", which is primarily seen on Twitter. It is when a brand makes a comment about something on their social platforms, and then other popular and well known brands get involved by responding to the initial comment. For example: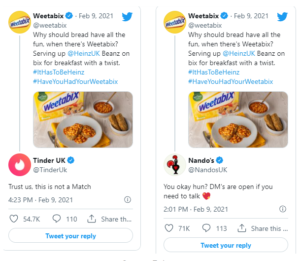 Weetabix: You may remember the national outrage from earlier this year, wherein Weetabix published a Tweet showing Heinz Beans being served on a Weetabix… The controversial nature of this tweet sparked other well known brands to get on board with the commotion; see below.
Source – Twitter
You can see from the above that the tweets reached as many as 71,000 people. It's current, quick and responsive, and gets people talking! The recurring theme of this type of marketing is the humour. Witty, quick and sharp responses are a sure way to generate a reaction!
Is reactive marketing a good method for my brand?
It may not be everybody's cup of tea. Usually, reactive marketing follows a humorous theme, and that may not be your brand's ethos. However, there are different types of reactive marketing, and they don't all have to be funny and witty. Brands such as Ben & Jerry's and Ikea follow a more informative route of reactive marketing, and instead focus their efforts on educating their brand followers and raising awareness to current issues.
Another example which you will all be familiar with is the way in which brands changed their marketing in light of the Covid-19 Pandemic – Lockdown. Many clothing retailers changed their main focus from their normal, to instead promoting comfy loungewear, and sports brands adopting the mantra "work out in comfort from home".
Your marketing strategy should be flexible and changeable, and save room for those opportunities which may arise to get on board with current happenings. If you need some more inspiration for marketing techniques, then check out our last big steps post which focuses on video content.
Have fun with it, get creative and let us know how you get on!