101 News Podcast Episode 2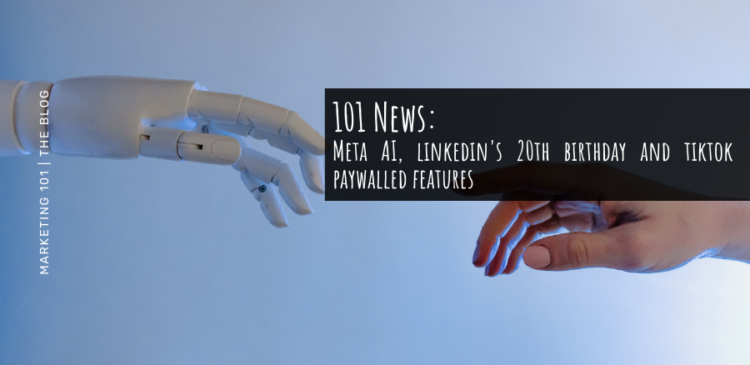 Welcome back to 101 News – the podcast within a podcast bringing you the freshest trends and updates from the world of digital marketing.
So, what does this week have in store for us? I will be covering Meta's AI software, LinkedIn's 20th Birthday and TikTok's new paywalled content feature.
Meta's AI Software
It's common knowledge that AI is on the up with software such as ChatGPT (an AI chatbot), Dall-E and Midjourney (which are AI image generators) taking over the world. Not to be left behind, Meta has jumped on the hype and is trialling their own alternative to AI software called LLaMA. 
In an initial release statement, Meta have said "To maintain integrity and prevent misuse, we are releasing our model under a noncommercial licence focused on research use cases, and access to the model will be granted in a case-by-case basis to academic researchers".
So far, developers have been test-driving this software, claiming that LLaMA isn't as good as the models powering ChatGPT.
LinkedIn's 20th Birthday
The social network platform LinkedIn will be celebrating its 20th birthday in May this year.
The networking giant has created a thriving place for business people to grow their professional network and develop careers. Whilst it's had its trials and tribulations, LinkedIn provides many people with a platform to showcase their skills and connect with people in similar fields to grow their network. It's also a place for employers to shout about their job vacancies, and entice the right people with the right skill set.
LinkedIn are recognising their 20th birthday with an article detailing the growth of the platform, from when it first started to where we are today – you can find this article in the show notes.
TikTok's Paywalled Features
Influencers and content creators will be pleased to hear that the social network giant TikTok is releasing a new feature to make money on the platform in the form of Paywalled content. 
TikTok announced a new programme titled Series, which allows content creators to make collections of videos which are available for purchase. Each collection can have up to 80 videos in it, and clips can be up to 20 minutes long. Fans can buy these clips by using direct in-video links or from the creator's profile page.
Small businesses could utilise this opportunity by creating a 'how-to' series (on how to use their products), or even a behind-the-scenes style insider peek series which documents how things go down when it comes to running a business. 
Meme of the week
This week's trending meme comes in the form of a TikTok again, this time featuring a cat.
Maxwell the cat is taking over news feeds, with an auto shop in Florida going viral, going from a few followers to 200,000 in just two weeks after using the cat filter. 
The theme of the meme is really just a cat, bobbing in the sky, to a catchy song (that does get stuck in your head so proceed with caution). We've tested this one out, so head to our TikTok if you want to see the meme in action.
Remember, you can find out some helpful tips, tricks and other amazing things by heading to 101blog.co.uk where we cover the subjects in more detail. Don't forget to tune in to our Podcast too, to stay up to date with key trends and changes in the digital marketing landscape.